Hope thru Film Award
LUGUFELO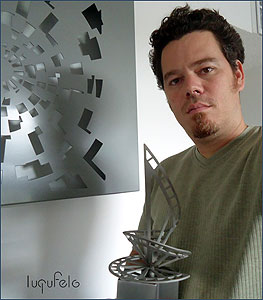 Luis G. Fernández (born December 18th, 1966) is a Venezuelan artist. From an early age he was exposed to and influenced by kinetics and Op Art, movements that developed and grew parallel to his early formation.
Inspired by years in the metals production industry, he began to play with the projections of light and with shadows and to use scraps from industrial metal shops to create works of art. The use of shapes and forms in metal and the ability of its creations to generate shadows have become iconic to the evolution of his artwork.
A 21st century artist, Lugufelo combines the use of top technologies to create a rich portfolio characterized by pieces that involve the manipulation of shapes and shadows through the use of the most diverse metals and other multiple different treatments.
Hope through Film, is an exclusive and unique piece commissioned by the New England Festival of Ibero American Cinema to honor the winner of the Emerging Filmmaker Feature Film Competition. The sculpture's rising spiral shape evokes the Pine Tree - a symbol of New England that predates colonial settlements - created with cinema tape. The hand made sculpture has a cash value of $ 3000.00.


http://www.lugufelo.com