Director in Focus – Esteban García Insausti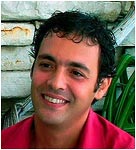 Mr Insausti, was born in Havana in 1971 and is a graduate of the Instituto Superior de Arte (ISA). In addition, he obtained a degree from the Escuela Internacional de Cine y Television – the school founded by Fernando Birri and Gabriel García Márquez. He began his professional career as a script writer for cuban television at age 19, to later become one of the first independent filmmakers of his generation. He enters the cuban film industry (ICAIC) with his first fiction short film "Mas de lo mismo" (More of the same), which was chosen as an official selection in Cannes 2001. Some of his other films include : "Luz Roja", "Tres Veces Dos" –which was the official selection at Montreal, Biarritz and Huelva Film Festivals in 2004 and which was also chosen by FIPRESCI as one "10 best films shown in Cuba during the Festival de Nuevo Cine Latinoamericano de La Habana in 2004". Another film, "Existen" an experimental documentary, won the Premio Coral to the Best Experimental Film in 2007 in the same Festival.
Mr Insausti's award winning film "Existen", was presented in Providence during the First Edition of "Desde Cuba: New Cinema" in 2008.
Mr Insausti is currently considered by several national and international critics as one of the most prominent directors of the avant- garde movement within the film industry in Cuba. His most recent film, "Larga Distancia" ("Long Distance"), 2010, had its INTERNATIONAL PREMIERE at the Lincoln Center in New York in mid august 2011 co-presented by NEFIAC. This NEW ENGLAND PREMIERE represents the second time the film has been shown outside of Cuba.
Special Program
"Desde Cuba: New Cinema"
(Fourth Edition)
A segment dedicated to showcase the works of young and mostly independent cuban filmmakers, "Desde Cuba: New Cinema", was originally presented in Providence in the fall of 2008 at the initiative of Christine Limonte, a Brown University student. This first and exciting event evolved into an ongoing program which is now presenting its Fourth Edition as part of the New England Festival of Ibero American Cinema, and which includes award winning short films and documentaries.
The significance of these films cannot be overstated. The lack of available resources for filmaking and producing and the economic isolation of Cuba have proven incapable of hindering the evolution of ideas, enthusiasm, hopes and dreams of a new young generation of filmmakers. Overcoming what at times may seem insurmountable burocratic difficulties, they turn to the streets and into themselves to find a story to tell and to create a fiction film, an animation or a documentary.
Once again, we are privileged to be able to share their talent and their work with our community of New England.