Events
Special Feature Presentation
Q& A with the Director, after presentation of the film.
MIGUEL COYULA – Writer, Director, Cinematographer

Miguel Coyula was born in Havana, Cuba, in 1977. He is part of a new wave of independent Cuban filmmakers working outside of the mainstream using digital technology on shoestring budgets. He has garnered many awards at film festivals with short films such as Dancing on Needles (1999), Nice Going (1999), Clase Z Tropical (2000), and The Plastic Fork (2001).
After graduating in 1999 from the prestigious International Film and Television School at San Antonio de los Baños, Cuba, Coyula came to New York on an invitation from the Providence Latino Film Festival to show one of his films.
While in New York he met Anna Strasberg of The Lee Strasberg Theatre Institute and was offered an acting scholarship. Returning to the U.S. to attend the Strasberg Institute, Coyula made his first feature, Red Cockroaches.
Reviewers reached for comparisons to Blade Runner: a bleak, futuristic Manhattan with flying cars, monumental Fritz Lang architecture in acid rain, and a long-dead sister who turns up alive to disrupt the world of her brother/lover. The 2004 Edinburgh International Film Festival described Red Cockroaches as "in the tradition of David Lynch" while Variety called it "undeniably inventive, visually stunning" and a "triumph of technology in the hands of a visionary with know-how."
In 2009, Coyula received a John Simon Guggenheim Memorial Foundation Fellowship in support of his work on Memories of Overdevelopment.
Memories of Overdevelopment premiered at Sundance 2010 and subsequently won the Havana Star for Best Film at the 2010 Havana Film Festival New York.
Coyula is currently in preproduction on a new feature, Blue Road, based on his own unpublished novel. It is the second film of a trilogy begun by Red Cockroaches.
Memories of overdevelopment, Showing at the Cable Car Cinema, Sept 24th., 7:30 PM
CECILIA DOMEYKO - Director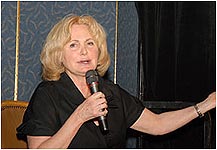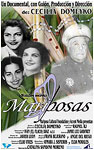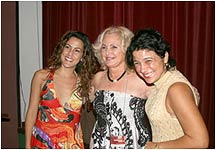 Code Name: Butterflies – Showing at the Avon Cinema, September 19th, 3:00 PM
ISHTAR YASIN GUTIERREZ – Director
Ishtar Yasin was born in Moscow in 1968 of Iraki, Chilean and Costa Rican origin. She starts its artistic education in 1979 at the Castella Conservatory, in San José, Costa Rica. Later on she follows Dramatic Arts career at the University of Costa Rica. She receives a Master's degree in Arts from the State Cinema Institute of Moscow (VGIK) in 1990. Since 2000 she works in her first feature film project "El camino" (The Path), which is chosen for the Manhein Coproduction Meetings in Heidelberg, Germany. It also receives the support of Fonds Sud Cinema Program from the French Ministry of International Affairs and a scholarship from Center of Scriptwriting (CECI), from Normandy, France. In 2008, after seven years of hard work, her first long feature film, "El camino" (The Path) finally sees the light in the Berlinale and she will be sharing with us at NEFIAC this year. She is currently working in the postproduction of the documentary "Apocalipsis de Nuestro Tiempo" (Apocalypse of our Time) about the recent work by the costarican-chilean painter, Julio Escámez and also the documentary "Les Invisibles" (The Invisibles) about the drama of the Haiti people after the earthquake. Another project in which she is involved is "Cine Carretero" that she is devoted to bringing cinema to marginal communities. "Knife of the Soul" is her second long feature film project, which is in its development stage at the present moment.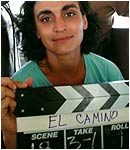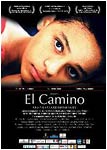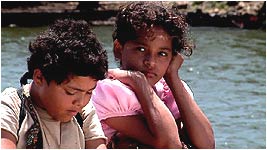 The Path, Showing at the Cable Car Cinema, September 21st, 5:30 PM
JAVIER FUENTES – Director
Javier Fuentes-Léon moved to Los Angeles where he pursued a M.F.A. in film directing at the California Institute of the Arts (CalArts), after finishing his medical career in Peru. His short film "Rooms" was awarded by the National Film Board of Peru (CONACINE) in 1997. He wrote and directed the short film Gemini and wrote two feature scripts: "The Woman Who Feared the Sun" and "Contracorriente" (Undertow). He received a scholarship for a screenwriting lab from the Fundación Carolina in Spain where he finished the script. Currently, Javier is preparing his 3 next projects: "The Woman Who Feared the Sun", film adaptation of his play "Mr. Clouds", "Pearblossom Highway", a psychological thriller inspired by a short story by Julio Cortázar, and "Sinister", a futurist rock musical.
Undertow, Showing at the Avon Cinema Sept 22nd, 8:30 PM
IAN PADRON- Director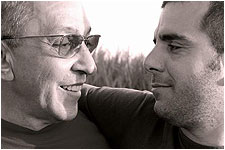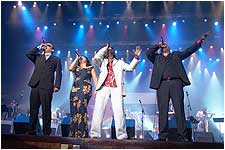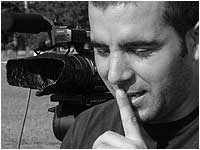 Van Van Fever, Showing at the Cable Car Cinema Sept 23rd, 7:30 PM
JAVIER ESPADA- Director
Javier Espada is the director of the 22 x Don Luis Film Festival created as a film homage to Luis Buñuel, which has already completed its 6th edition. He has designed the permanent exhibition of the Center Buñuel in Calanda (CBC), in honor to the Aragonese filmmaker and Spanish icon Luis Buñuel. Mr. Espada heads the CBC since its creation in the year 2000. He has created numerous exhibitions related to Buñuel in the cities all over the world. Along with Asier Mensuro he designed the photographic exposition of the Buñuel Family Album (Album fotográfico de la familia Buñuel). In contribution with the Filmoteca Española he conceived an exhibition dedicated to rescue an assembly of unpublished photographs made by Buñuel while scouting for locations in Mexico called Mexico Photographed by Luis Buñuel. He has collaborated in diverse film festivals such as Berlin International Film Festival, CineFrancia, Mostra de Cine Latinoamericano de Lérida, Festival Cinespaña de Toulouse, Mostra de Cine Latinoamericano de Lisboa, Guadalajara International Film Festival (Mexico), Documenta Madrid, Filmtage Munich, SEMINCI, San Sebastián International Film Festival, Havana International Festival of Latin-American Cinema, and many more. He has written and co-directed with Gaizka Urresti the documentary El ultimo guión: Buñuel en la memoria (The last Script: Remembering Luis Buñuel), which received several international awardeds and will be screened at NEFIAC this year.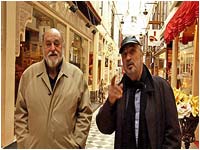 The Last Script: Remembering Bunuel, Cable Car Cinema, Sept 24th, 5:30 PM